Mont'e prama giants: unique archeology in Sardinia
By Gaveena & Stefania Deiana | 14 Feb 2018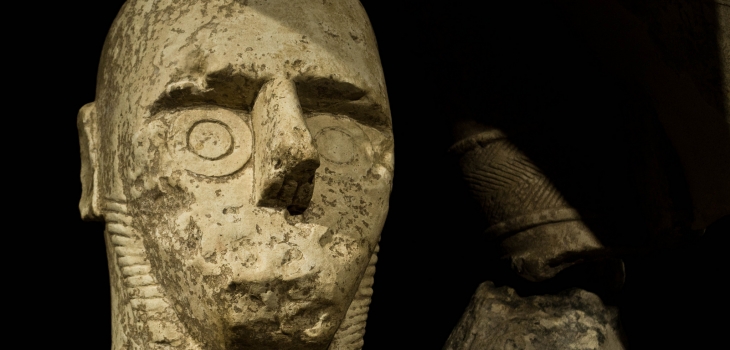 International media have written about them. In Sardinia they are the topic of the year. We are talking about
Giants of Mont'e Prama
, the ancient statues which put a spotlight on archeology in Sardinia and got to be very special Ambassadors of our island all around the world.
Their fascinating story began in 1974, when the peasant Battista Meli found a rock head in Mont'e Prama, a hilly area near Cabras, on west coast of Sardinia, Italy. Since then, more than 5000 fragments were brought to light by the archeological digs. Among these findings: 15 heads, 27 chests, 176 pieces of arms, 143 pieces of legs, 784 shield components.
After a long work of reconstruction the sandstone statues representing ancient boxers, archers and fighters saw the light again.
The excavations restarted in September 2014 discovering two new statues, which represent two giant boxers: the two famous Colossi. The first statue was found without the head and the feet, while the other was almost intact.
Besides their imposing stature, these last statues seem to have some elements in common with ancient Nuragic bronze statues (so called
bronzetti
) found in Vulci, in central Italy near Viterbo and dated back to the IX Century b.C. If this theory is true, these two Giants will become
the most ancient example of Colossi found until now in the Mediterranean area
.
There are many questions related to the role played by these statues. What are they? And what were they meant for? Did they represent funeral monuments? Which are the interconnections with the other Mediterranean cultures? All questions that should be answered by the researchers and archeologists who are carrying out the studies on the Mont'e Prama site.
Another curiosity is the similarity between the Giants' faces and some well-known
masks of Sardinian tradition
. This theory suggests that use of masks in the Sardinian society was common already 3000 years ago and has been reproduced into some facial traits of the Giants.
The statues of Mont'e Prama can be admired at the
Archaeological Museum in Cagliari
and at the
Town Museum in Cabras
.
Wish to discover the rich archeology in Sardinia?
Join Gaveena's local fellows during these unique travel experiences:

>> Nature and archaeology in north-west Sardinia

>> Flavours of archaeology in west Sardinia

>> Archaeological Hunger in south Sardinia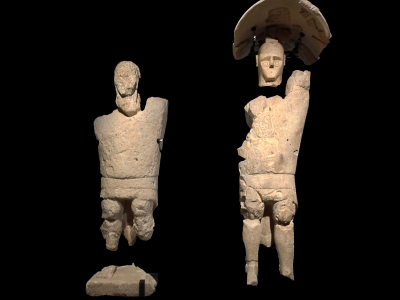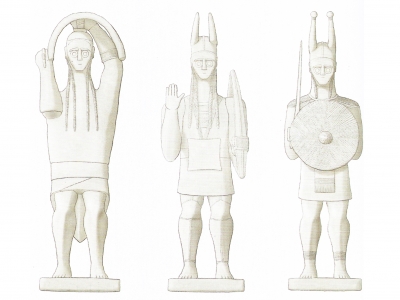 ---
MAIN PICTURE
The amazingly well preserved head of one Mont'e Prama Giant; these statues are on display at archelogical museums in Cagliari and Cabras in Sardinia, Italy -
© Vluargh
BOTTOM LEFT PICTURE
Two statues of Mont'e Prama Giants on display at Archeological Museum in Cagliari, Sardinia -
© Vincenzo Vacca
BOTTOM RIGHT PICTURE
This drawing shows how Mont'e Prama Giants looked like and it is based on archeological findings as well as comparison with several similar figures found in Sardinia -
© mitue