Top 5 Sardinian cheeses
By Gaveena & Giusi Carai | 28 Jun 2017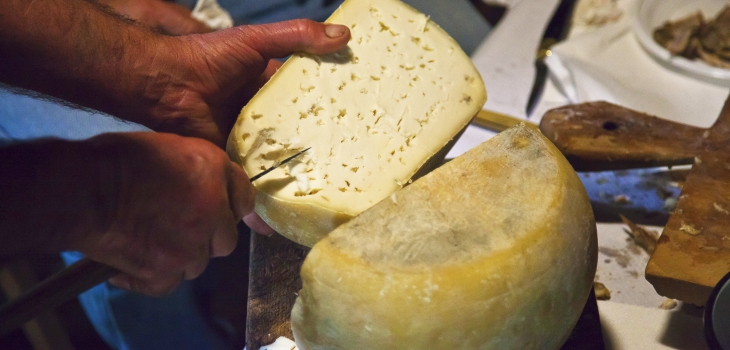 You might wonder what the hell we will be doing with the thousands of white sheeps which can be seen so often travelling along our island. Here is the best answer you could ever wish: we make amazingly fine sardinian cheeses.
The aromatic grazing land in Sardinia has encouraged a skillfull production of cheeses mentioned and appreciated since 2000 years by Ancient Romans and still made the same way. Started mouth watering? Then it's time to head to Sardinia to let your holiday be cheeseful!
1 – Pecorino, Sardinian pride
The king of local production,
matured salted sheep's milk cheese
is popular worldwide. Pecorino is quite common in pesto sauce and our
traditional pasta recipes are literally covered
by it. Available at different levels of salinity and maturation, we highly recommend you to try it into a fresh green salad or
with the typical flatbread Carasau
and sardinian cutlets, or grapes and figs, while with honey is a perfect match of sweet and sour flavours. If you come in winter don't miss
fresh pecorino melted
over carasau bread by the fireplace!
2 – Ricotta, sheep's and goat's milk delicacy
Mainly made by sheep milk, it can have different shapes, can be fresh, smoked or used grated. It is
delicious with salt or sugar on the top
. Commonly used in local dishes and desserts, ricotta is a real pleasure for your tastebuds. Especially, if you buy
it freshly-made
from a local farmer. Gaveena's favourite recipe is fresh ricotta with honey, glazed orange peel and cinnamon, don't miss it!
3 – Casu axedu, lactic ferments in action
This fresh cheese is common in the whole island. It was extremely useful for shepherds to find a way to
transform easily the curd into something to eat immediately
. In fact, the curd, formed by the natural culture of lactic ferments, is cut up into large pieces,
left to acidify for a whole day
and ready for immediate consumption. Well yeah, it is like using expired milk to prepare small porcelain white cubes (perfect in a minestra) but with a
saltier, sharper flavour
.
4 – Casu Marzu, in the world most frightening food's list
So far, we have introduced many varieties of cheeses but only one
rises to the level of shocking
and this is
casu marzu
or rotten cheese. Actually everything starts from a normal Pecorino but at a certain moment of its life, it is
sliced on the top and exposed to attract flies
. No, your eyes are not deceiving you! The funny creatures lay their eggs in the cheese and when the little larva starts eating the cheese, casu marzu is ready. Now you can start to
scoop this yummy cream
onto Sardinian flatbread… or maybe try the "colonized Pecorino" before it is turned into cream and tiny larvas are still crowding its surface!
5 – Pasta Filata cheese
The most common
cow milk cheeses
made in Sardinia, so buttered and milky made with the spun paste technique by a stretched curd. This cheese is usually pear shaped, with "a priest hat". They can have different names in the different areas of the island (Piritta, Taedda, Casizolu, Tittighedda) some of them meaning
breast or pear
. They belong to mozzarella family, tough they are something completely different and really savory!
Which is your favourite Sardinian sweet?

Discover this amazing world of flavours with Gaveena's food experiences:

>> Cagliari Food Explorer

>> Affodable Alghero

>> Fooding Wining and Crafting in Barbagia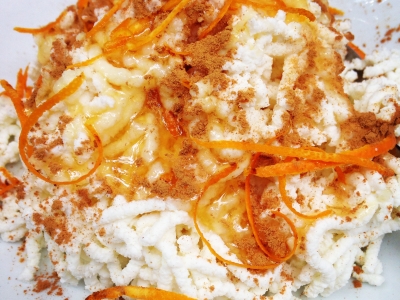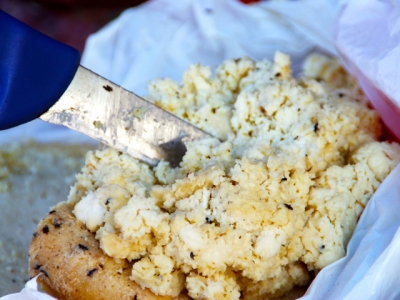 ---
MAIN PICTURE
The most friendly and authentic way to enjoy Pecorino cheese is directly from the shepherd's hands -
© Aurelio Candido
BOTTOM LEFT PICTURE
Fresh mashed ricotta cheese with honey, glazed orange peel and cinnamon, a unique mix of delicious mediterranean flavours - © ezioman
BOTTOM RIGHT PICTURE
Casu Marzu - or rotten cheese - is the strangest and strongest sardinian cheese that will surprise and captivate food lovers -
© Vincenzo Vacca