Top 10 don'ts in Sardinia
By Gaveena & Manuel | 19 Mar 2018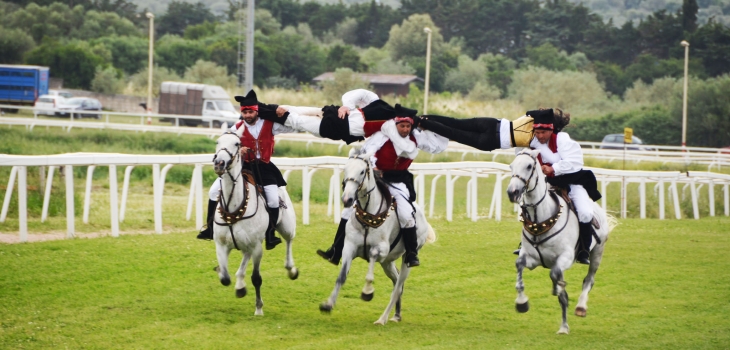 Sardinia is a world apart so there are special rules to follow during your stay, that's why we decided to publish these ironical-but-serious don'ts.
No danger, don't worry! These few tips will help you to happily get into the soul of the island to be seduced by its food and amazed by its people.
1 – Never refuse drinks or food offered by locals
It doesn't work even if you say you're teetotal, since you will get something non-alcoholic and you will have to drink it. The only solution is to say you are allergic… but you need to be sure that the same people will not see you eating or drinking what you previously refused!
2 – Never try to pay a bill for food and drink enjoyed with locals
If you try to pay after enjoying a drink or a meal with your sardinian friends, at first you will be simply ignored by the staff. Then, if you insist, the staff will keep ignoring you and will ask your local friends what to do; of course they will answer to ignore you. If you further push to pay, most likely you will get the answer: "Sorry, here we do not accept money coming from outside the island"… or sometimes you will keep being ignored!
3 – Never pour drinks with the back of your hand facing the glass
This way of pouring is not so much appreciated all around Italy and not in Sardinia only. Somehow it's a mixture of superstition and aesthetic.
4 – Don't use GPS navigator
Of course it is a useful tool, but be aware that many beautiful and interesting places are not actually mapped. That's the second reason why not to use it, the first is: ask people, you will get reliable directions… and often you'll be personally taken there!
5 – Never say you would like to eat a few bites
Whenever you express the wish for a light snack, be aware that sardinians can easily turn it into a long meal by proposing you several kinds of ham, cheese, sausage, bread and of course tasty wine.
6 – Never get close to a flock of sheep
In Sardinia live about 4 million sheep and each flock is carefully protected by shepherd dogs; they like to show their master how skilful they are, so if you buzz around their territory they can get quite angry with you. If you meet a flock of sheep on the road while driving, just stop the car and let them pass; if you try driving through it, together with the dog also the shepherd will get angry!
7 – Don't consider seaside only and go exploring the inland
Actually this is the reason why Gaveena was born! The sea is beautiful – probably the best you can get in Mediterranean – but the the real soul of Sardinia is in the inland: breathtaking, authentic, heartwarming and idyllic. So go exploring with our local folks, they will introduce you to hidden treasures of this ancient land.
8 – Don't get too much linked with Sardinia and sardinians
This is probably the most important tip. Try not to fall in love with Sardinia and its people… it's a chronic disease that can be defeated only by moving to the island!
9 – Don't leave thinking you saw everything
Our island has a lot to show you and share with you and surely you will not manage to see everything in one single journey. So get into Sardinian mood, slow down and take your time to fully enjoy every place you visit and every person you meet during your stay.
10 – Don't say that Costa Smeralda is the best of Sardinia
Costa Smeralda is known worldwide and many people imagine its beautiful sceneries when dreaming of Sardinia. But the beautiful coast is actually the only pure sardinian feature of this area; the real soul of our island is not here, so start wandering around since almost all the other places you'll visit will let you get into the authentic Sardinia.
By following these easy rules, you'll get ready to visit Sardinia with smily local folks!
So here are some cool suggestions by Gaveena:

>> Sardify Yourself in Barbagia

>> Activitalizing Break in Cagliari

>> Nature and Archaeology in North-West Sardinia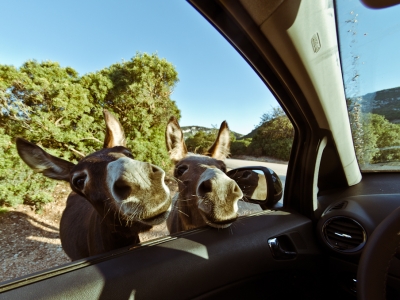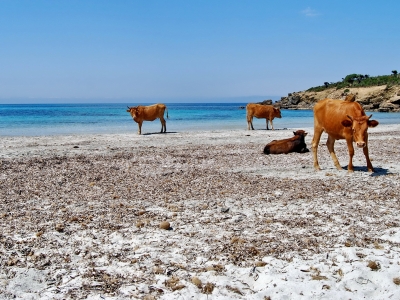 ---
MAIN PICTURE
Don't lay horizontally while riding horses. This special trick can be performed only by experienced horse riders during "Pariglie" shows, taking place during several events in Sardinia, mainly in carnival period -
© ezioman
BOTTOM LEFT PICTURE
Don't take on board hitchhiking donkeys when driving on sardinian country roads -
© Eduardo Suazo
BOTTOM RIGHT PICTURE
If you pass by Piscinnì beach at Domus de Maria in south Sardinia, don't disturb the cows relaxing and suntanning by the sea -
© Giuseppe Mercolella