Three reasons for a Easter holiday in Sardinia
By Gaveena & Giusi Carai | 23 Jan 2018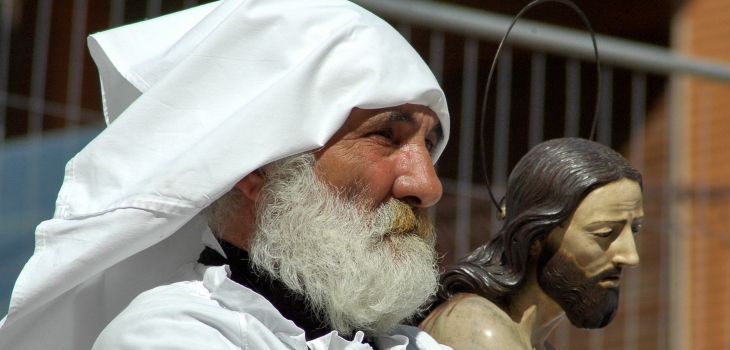 Do you believe that Easter is just painted eggs or Easter bunnies? Prepare your eyes and cameras to get impressed by
some of the most amazing Easter rituals in the Mediterranean countries
and be ready to enjoy a spiritual experience!
Moreover, this is a wonderful time of the year to visit our island:
spring is blooming
together with its
splash of colours and inspiring scents
. Are you ready?
1 – Enjoy Sardinian spring
You might have read somewhere that, when landing in Sardinia, people feel usually overwhelmed by the intense scent of its nature mixed with the sea breeze. If you are arriving in the island during Easter this sensation will be enhanced! The
landscape is dominated by blossoming almond trees that announce the change of season
. If you are still trapped in Sardinian Carnival atmosphere, now it is time to get free. Lose yourself across the green countryside, take a sunny walk in the
desert beaches
and wander in cities and villages discovering local hospitality.
2 – Taste Easter traditional lunch and special food of Sardinia
The time before Easter is time for atonement and fast in Christian tradition. However it looks like all the energies are saved for the celebrations of Easter and the day after which is called
Pasquetta
, the little Easter. Sardinian lamb is not only a tradition but also one of the
finest specialties of the Italian cuisine
. If you happen to be here give it a try! Starving for forty days give Sardinian enough time to prepare some of the most tasty food ever. I am not saying nuts or eggs but casatinas or casadinas. A special dish that can be both salted or sweet according to local folks. Did I mention the fact that things can change completely in a range of 6 kilometers? Come over and see how it works for real.
3 – Join evocative rituals from Alghero to Cagliari
The rituals of the
Settimana Santa
are highly evocative and moving even if you are not Christian. They are performed in different locations across the island. Among the most magnificent we recommend you
those displayed in Alghero and Cagliari
. In Cagliari processions starts in holy Friday swarming the historical city centre. In Alghero don't miss the final procession of the
Les dames
, traditionally performed by women. Sardinia is a very traditional island and processions and re-enactment are authentic. These represent the meeting of Christianity with pagan rites celebrating the rebirth of nature and life.
Are you going to leave your Easter bunny at home?

Here are a few ideas to enjoy Easter atmosphere in Sardinia together with friendly Gaveena's local fellows:

>> Fooding and crafting in Cagliari

>> Once upon a time in Cagliari

>> Coastal wandering around Alghero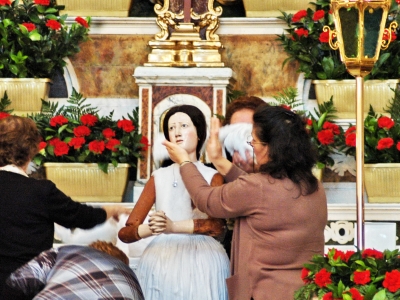 ---
MAIN PICTURE
Traditional costumes are worn during Easter parades, when holy statues are taken from churches and brought in the streets of sardinian towns -
© Cristiano Cani
BOTTOM LEFT PICTURE
During Easter, a funny way to use leftovers of hand-produced pasta is to make these pretty artworks to decorate eggs -
© Nazionale Anpas
BOTTOM RIGHT PICTURE
Decoration and dressing up of holy figures of Christianity is part of ancient rituals during Easter week in Sardinia -
© Cristiano Cani