Spaghetti with bottarga - Sardinian recipe
By Gaveena & Mirtilla | 20 Sep 2017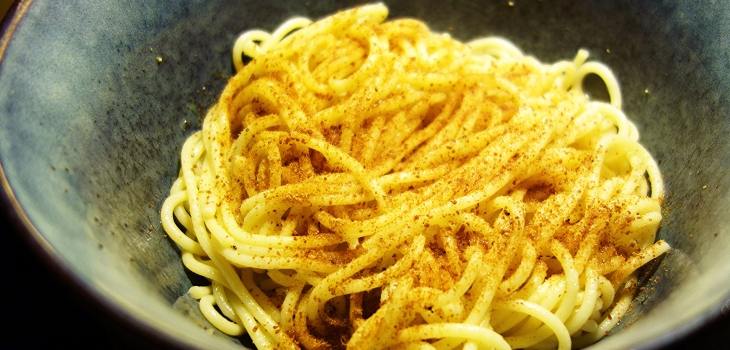 Bottarga is made of mullet or tuna roes, salted and dried; it is a typical product of Sardinia, born centuries ago in Cabras on west coast of our island. It can be found in
baffe
(literally 'mustaches' because of their shape) or grated. For this recipe we will use it grated.
Spaghetti with bottarga is one of the easiest and most delicious recipes to enjoy bottarga's intense and unique flavour.
Spaghetti with bottarga recipe
Ingredients for 4 people
400 gr spaghetti
extra virgin olive oil
30 gr of salt (better in large grains)
40 gr grated bottarga
a small chili (if you like to add a bit of spicy taste)
Put about 4 liters of water in a pot and let it boil over fire; when water is boiling add salt and then spaghetti; when all spaghetti are under water, stir them a bit in order not to let them stick between each other.
In the meantime heat the olive oil in a low pan adding a small chili for about 5 minutes if you like to add some hot to your recipe; be careful not to let oil burn, so when it starts boiling you should lower the fire.
After about 10/12 minutes spaghetti should be ready (while cooking check whether salt is enough and add some if needed); drain pasta and pour it in the pan with hot olive oil and mix while adding grated bottarga. Serve them very hot with a bit more of grated bottarga on top.
Remember that bottarga must never be cooked otherwise it would lose its flavor; other traditional ways to enjoy it are with raw artichokes, raw celery but also with clams together with
fregola sardinian pasta
.
If you got mouth watering, you may wish to taste spaghetti with bottarga while visiting Sardinia with Gaveena's local folks! Here are some inspiring suggestions:

>> Cagliari Food Explorer

>> Affodable Alghero

>> Fooding and crafting in Cagliari
---
MAIN PICTURE
That's how your delicious spaghetti with bottarga should look like after following Gaveena's Sardinian recipe -
© Fat Les