Sardinian wild horses
By Gaveena & Giusi Carai | 01 Aug 2016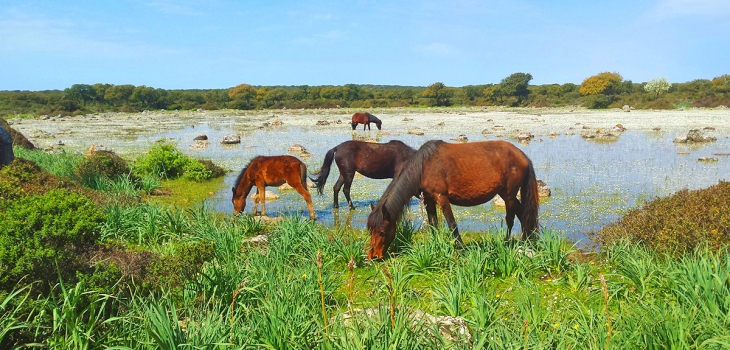 Amongst the reasons why our island is often defined as a continent I bet there are the little Sardinian wild horses, strolling free in Giara plateau, about 70 km from the western coast.
When you head to the majestic nuragic village at Barumini, you might feel astonished from the splendor of this ancient culture as well as thirsty in watching around yourself; that's surely a great idea since a bunch of miles away you will find the green and refreshing
plateau called Giara di Gesturi
where you can admire our indigenous horses enjoying wide natural spaces. Recently, popular French star Brigitte Bardot launched an appeal to defend Sardinian wild horse. However it came out that they are better than ever and this is the right time to meet them.
Where do Sardinian horses come from?
These wild ponies have been grazing peacefully in the Giara for ages. In fact they are considered the
last surviving horses of an ancient breed
which used to populate the entire island during prehistorical centuries. They were used in agriculture until the beginning of last century and then population decreased rapidly. That's why many actions to protect them are currently in place.
Enjoy the wild Sardinian nature
Many fresh water marshes formed by the stagnation of rain water in the depression are found here. Almost all of them dry up during the summer except the perennial Pauli Maiori. The best time to watch the show of nature with the colours of plants such as soldanella and ranunculus, is spring.
What to do if you meet Giara's horses?
First of all, you should congratulate yourself, you are lucky mate! In fact, these ponies are particular sensitive and wild. Although peaceful, the
cavallini
(little horses in Italian) have precise rules. Males fight for the harem and female are often busy in feeding and carrying little new members of the family.
Wish to be fascinated by Sardinian wild horses… and a rich archaeology as well?
Join friendly Gaveena's local folks in this exciting travel experience:
>> Archaeological hunger in south Sardinia
---
MAIN PICTURE
A typical view of Giara plateau in Central Sardinia, the natural area where Sardinian wild horses freely stroll - © L'isola che vorrei - S.M.E.