Sardinian Torrone
By Gaveena & Manuel | 05 Feb 2017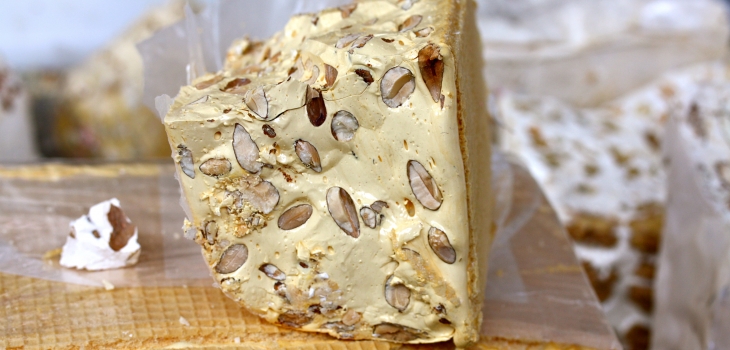 There's a delicious white sweet produced in our island since ages by skilfully mixing three simple ingredients: honey, egg white and almonds, nuts or walnuts. It's Sardinian Torrone!
The cradle of Sardinian Torrone is surely Tonara, a village between the mountains of Barbagia region in the heart of Sardinia. Almost all people living here work around this tasty specialty appreciated for its unique features all over Italy as well as abroad.
You can find Torrone almost everywhere in Sardinia, it is usually sold directly by producers carrying big white blocks on their moving shops, attending local events and festivals taking place throughout the year.
Together with classic versions mentioned above, some producers like to enrich the taste by adding myrtle syrup, caramelized orange or lemon; others prefer to calm down the sweetness with the strong taste of chestnut honey or to add a bitter backtaste with strawberry tree honey.
Some people suggest to keep it in the fridge to enjoy a more intense taste, some others prefer to taste it melted as a cream… but if you don't store it carefully during warm summer months, you'll get a Torrone cream anyway!
Sardinian Torrone recipe
Ingredients
500 gr honey
400 gr nuts or almond or pecan nuts, or a mix of the 3 if you like!
2 egg whites
wafers leaves
Get ready your baking pan by placing a layer of oven paper at the bottom and to cover it with one or two layers of wafer leaves (available in pastries and supermarket).
In the oven at 150 °C toast the nut you chose for a few minutes, being careful not to burn them!
Warm up honey in a small pan in order to make it liquid, beat the egg whites and gradually add them to honey, keep stirring at low fire for about half an hour until you get a white cream.
Add nuts and keep mixing for 10 more minutes.
Spread the mix in your baking pan, cover with another layer of wafers and let it cool down for bout half an hour.
Someone like to add some of our delicious local flavours like myrtle berry or caramelized orange skin, some others give Torrone a unique taste by using bitter honey made from strawberry tree flowers.
Wish to discover the magic taste of Sardinian Torrone, together with many other delicious sweets? Friendly Gaveena's local fellows have created for you these cool travel experiences:

>> Sardify yourself in Barbagia

>> Affodable Alghero

>> Cagliari Food Explorer
---
MAIN PICTURE
Torrone is a delicious sweet produced in many mountain villages in the heart of Sardinia -
© Ilaria Corda