Sardinian Mirto
By Gaveena & Stefania Deiana | 12 Jun 2016
What about a
mirto
?
If you have already been to Sardinia, most likely you already enjoyed our most famous liqueur. Not yet? Then it's time to come over and taste this very special drink!
In the post 
Sardinian language survival tips 
 we have already talked about the welcoming attitude as well as sociality of drinking in our island; whenever you'll be in contact with local fellows during your holiday, surely you'll be offered something to drink. And if it will be at the end of a meal, we are almost sure that this drink will be a
Sardinian mirto.
What is mirto?
It is a Mediterranean plant producing myrtle berries flourishing in Sardinia and Corsica. Moreover it is a very popular liqueur produced from its berries and leaves.
The berries are collected between late December and January, when they are perfectly ripe. They must have a blue-violet colour, and can be eaten!
Mirto
can be extracted by the infusion of myrtle leaves as well. In this case, the leaves are collected during spring time, and the result is a white liqueur, the so called
mirto bianco. 
If you would like to drink a
mirto
, remember: they taste different! The first one is red and usually sweeter, whereas the white one has great digestive properties.
You can order a
mirto
at the bar or at the restaurant. It is not unusual that the restaurant owner offers a
mirto
to his guests to thank them for their visit. It is usually served iced in a shot glass as digestive after lunch of dinner. Some people drink it as
ammazzacaffè
 after an espresso. But you can also drink it as aperitif, matched with some crunchy bread (like our
pane carasau
), Sardinian sausage and pecorino cheese.
However, the best way to taste a genuine
mirto
is asking for a home-made liqueur at an
agriturismo
or to be offered one by a local friend. In Sardinia, we always have at least one
mirto
bottle at home, also people who don't drink alcohol. We love preparing it and serving it to our guests .
Interested into bringing home a bottle of
mirto
? Find it at the supermarket, on the shelves dedicated to spirits or local food. Otherwise check out local food and wine shops. If you're addict to aesthetic – or you wish to use
mirto
as decoration – you can find some beautiful bottles covered with cork.
Producing
mirto
is a long process. Are you curious to know a home-made
mirto
recipe? This is my mother-in-law's recipe, and it is usually very appreciated.
To prepare one litre of liqueur, we need one kilo of myrtle berries and one litre of pure alcohol.
The berries must steep for 40 days in the alcoholic infusion. Other versions let the berries steep for a period included between 15 and 45 days, depending on how strong the flavour is wished.
After this time, alcohol and berries must be separated and berries have to be pressed and squeezed to get their precious juice.
To sweeten the liqueur, we prepare a syrup with 600 grams of sugar and 600 ml of water and let the syrup boil for ten minutes. For a more alcoholic taste, less water is needed. After boiling, we let the syrup cool down before adding it to the alcoholic myrtle infusion. After a few days, the
mirto
will be ready to drink! As said, it is a long process, but don't worry! You don't need to prepare it to taste its flavour. In Sardinia, you will drink it during many occasions! An experience not to be missed is certainly represented by the local folk feasts and festivals, many of which are celebrated during the summer time.
Do you know that a special festival is entirely dedicated to
mirto
? It is
Mirtò
, the festival held every year at mid- August in Telti, a small village close to Olbia, in north-east Sardinia. If you would like to drink any sort of locally produced
mirto
and enjoy a special atmosphere with music, dancing, and delicious food, don't forget to plan a visit!
How about drinking one with Gaveena's local fellows?

>> Affodable Alghero

>> Fooding Wining and Crafting in Barbagia

>> Cagliari Food Explorer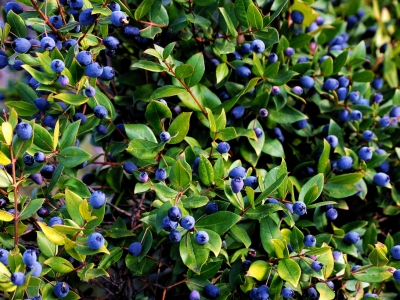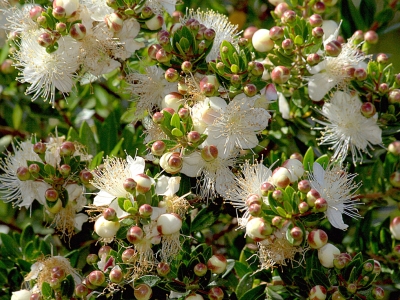 ---
MAIN PICTURE
Myrtle berries can be magically transformed in a delicious liqueur -
© Dizzy High
BOTTOM LEFT PICTURE
A plant of sardinian mirto during winter season when berries get perfectly mature and juicy -
© richard.singleton
BOTTOM RIGHT PICTURE
Marvelous white flowers with a unique scent are the first stage of creation of myrtle berries -
© Manuel