Main events in Sardinia June - December
By Gaveena & Manuel | 05 Mar 2018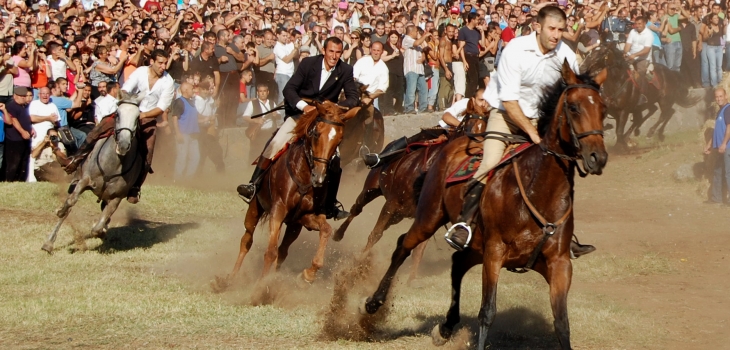 This is our selection of events buzzing Sardinia between June and December.
This is only a selection of main happenings and of course there's much more than these, so whenever you will visit us, be sure that you'll have many chances to join amazing and curious events!
If you are planning to travel in the other half of the year, you may check out this post
Main events in Sardinia January – May.
Girotonno
Carloforte, San Pietro Island – end of May/beginning of June
People living at Carloforte, the main town of San Pietro island offshore Sardinia's south-west coast, have a special link with Genoa where their ancestors where born.
Here one of the oldest tuna processing plants in Mediterranean is still in operation, working with traditional fishing techniques. In this fancy and unique microcosmos the red-meated fish is a real icon, widely celebrated during Girotonno festival: four days devoted to food, wine, busking, dancing and enjoying the Mediterranean atmosphere at its best.
Here's a tasty link for you
www.girotonno.it
World Rally Championship
Alghero – June
The dusty and challenging roads of north Sardinia are the venue chosen by FIA as the italian stage of World Rally Championship. A long weekend full of action takes place in Alghero which has been appointed as the headquarter of the event. Usually the event is on stage in the first half of june; for news and updated program check out
www.wrc.com
Ardia di Santu Antinu
Sedilo – July 6th and 7th
This wild horse run is performed every year by the most skillfull and daring horsemen of Sedilo, a village in central Sardinia; the participants bravely ride around Santu Antinu sanctuary to show their devotion to the unofficial saint-warrior venerated in Sardinia. The fast-paced frantic run is the climax of a weekend filled up with action, tasty food, wine, art and craft representing the soul of this area nestled between sea and mountain.
Here's a link to feed your curiosity 
www.santuantinu.it
Birras – Sardinian craft beer festival
Guspini – Mid-july
Did you know that Sardinia has the highest beer consumption per person in Italy and one of the highest in Europe? Together with the undisputed leader brand Ichnusa (which is the ancient name of the island and means "footprint"), in recent years many micro-breweries started producing high quality craft beers. And of course sardinians have created a special event to meet up and celebrate their passion for the foamy blond nectar. It takes place at mid-july in Guspini, on the south west coast, in the former mine site of Montevecchio between fascinating examples of industrial archaeology.
On
www.birras.it
full information are available; the site is in italian only but Google Translator has the power to transform italian into your favourite language.
I Candelieri
Sassari – mid-August
The days around Ferragosto (15 August) are the most popular summer festivity in Italy, celebrated throughout the country with parties, events and fireworks. Of course Sardinia is enjoying as well and the fanciest place to be at mid august is surely Sassari: here, in the afternoon of 14 august, one of the oldest events of the island takes place, when huge colourful candles representing the traditional crafts of the town are taken on parade surrounded by a dancing and cheering crowd. I Candelieri has been included in Unesco's World Heritage.
Some good inspiration is available at
www.candelieridisardegna.it
Sagra del Redentore
Nuoro – last weekend of August
The capital of Barbagia, Sardinia's mountain area, gets full of colours, tastes and smiles during its annual jamboree, when folk groups representing local communities gather to present their traditional costumes, music and dances. The event gets to the climax during the visit at Redentore bronze statue on top of Mount Ortobene, with a scenographic view on the wide mountain range surrounding the town.
Corsa degli Scalzi
Cabras – first sunday of September
In one of most ancient settlements of Sardinia, la Corsa degli Scalzi (run of barefoot) celebrates the worship of San Salvatore whose statue is taken from saint's sanctuary to Cabras town by a crowd of around 1000 white dressed people running barefoot for 8 km. This event is also a great opportunity to taste the excellent products of the area such as bottarga (cured mullet fish roes) and vernaccia, an extremely tasty fortified wine.
Autunno in Barbagia – Cortes Apertas
Central/north Sardinia – September/December
This wide series of events involving around 30 towns and villages in Barbagia mountain area and its surroundings is surely a good reason to visit the heart of Sardinia during autumn and early winter. The original name "Cortes Apertas" (open courtyards) represents the soul of the happening focused on sharing the best of local products, craft and traditions in a cosy and friendly atmosphere.
Complete – and mouth watering – program is available at
www.cuoredellasardegna.it
If you wish to enjoy these cool events with friendly local fellows,
check out these interesting travel picks by Gaveena:

>> Mountain Wandering in the Heart of Sardinia

>> Activitalizing Break in Alghero

>> Once Upon a Time in Cagliari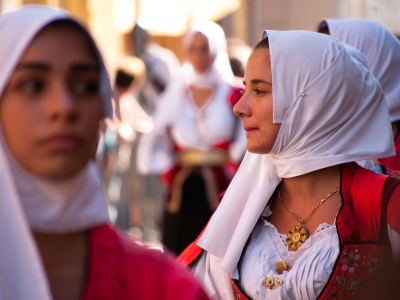 ---
MAIN PICTURE
The thrilling horse ride during Ardia di Santu Antinu in Sedilo, central-east Sardinia -
© Cristiano Cani
BOTTOM LEFT PICTURE
The parade of Candelieri in Sassari, north Sardinia, is one of the coolest and unmissable events of sardinian summer -
© Paolo Fusco
BOTTOM RIGHT PICTURE
Redentore parade in Nuoro, north Sardinia, gathers folk lovers from all over the island -
© grusenka