Top 5 Sardinian Sweets
By Gaveena & Giusi Carai | 01 Mar 2017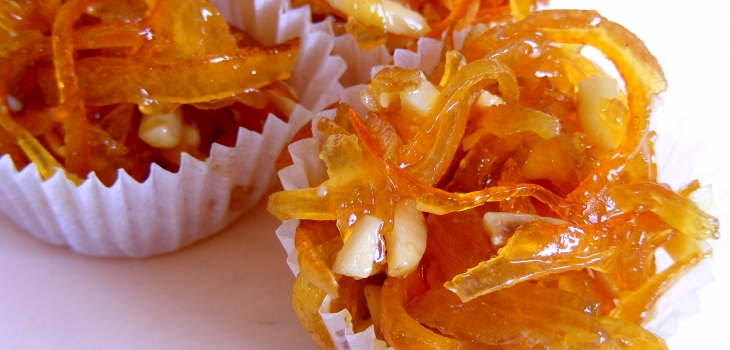 Certain things in life
deserve a sweet
. That's what Sardinian think you will admit! Sardinian baking and patisserie are an amazing combination between the shepherds tradition and the plenty of flavours offered by this generous island. Sprinkled with local honeys and other yummy ingredients, Sardinian sweets are a pride of gastronomy and simply mouth watering.
Gaveena warns you: if you can, stay on a diet before visiting us because these desserts are worth a try!
1 – Arantzada o Confittura, a luxury delicacy
Fancy orange flavour and glamorous ingredients? You will love these strips! Traditionally prepared for weddings and Christenings, the orange peels are collected and cut into thin stripes during the whole year by the members of the family. When the time has come, the orange peels are soaked with water and stir in a friedpan with honey and almonds into something amazing for your tastebuds.
2 – Papassinos, classic extraordinary Sardinian biscuits
A kind of giant biscuit perfect to dip into tea and coffee. The preparation varies according to the area, they can be larger, smaller, plain or covered with icing sugar. In every case they will have almonds, walnuts and raisin cut into pieces or smashed. We bet you'll get to be a fan of one kind of papassinos instead of another after coming here. Shall we try?
3 – Sebadas, an unmissable treat
You can whether agree or not, but a dinner without sebadas is missing something. Sebadas or Seadas are funny, crispy, sweet and flavoured. They look like a big raviolo (a fritter, larger than raviolo) filled with fresh sheep cheese or ricotta mixed with lemon or orange zest and different herbs.They are eventually fried and served warm with honey or sugar on the top. Sometimes they are so big that you can even have dinner with one of them. Obviously if you prefer not to fry just put them in the oven, although…
4 – Tiliccas, crunchy from north Sardinia
A typical sweet from Gallura and Logudoro (north west Sardinia). A thin double layer of paste and sweet amalgam made with honey and toasted almonds. Since their pastry is done with semolina flour and lard, this sweet is not very sweet in the end. Isn't it a good news?
5 – Suspiros, a sugar feast
Curious to know how a sweet called whispers could make you feel? Then head to Ozieri, home to sospiros round balls made by almonds, sugar, honey and flavoured with delicious mediterranean lemon fragrances and finally coated with icing. While whispering you might be tempted by helping yourself with this small treat. Perfect if you need to store sugars for your next exploration in Sardinia!
Which is your favourite one?

Discover this amazing world of flavours with Gaveena's food experiences:

>> Cagliari Food Explorer

>> Affodable Alghero

>> Fooding Wining and Crafting in Barbagia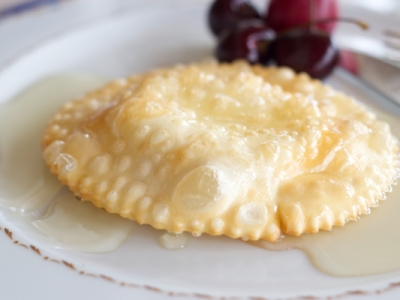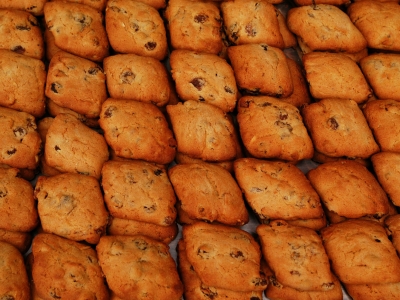 ---
MAIN PICTURE
Arantzadas are usually prepared for weddings and christenings; the orange peels are cut into thin stripes and mixed with honey and almonds -
© gurau
BOTTOM LEFT PICTURE
Sebadas - or Seadas - is probably the most popular sardinian sweet; it looks like a big raviolo (a fritter, larger than raviolo) filled with fresh sheep cheese or ricotta, mixed with lemon or orange zest and different herbs -
© Wei-Duan Woo
BOTTOM RIGHT PICTURE
Papassinos are traditional sardinian biscuits with almonds, walnuts and raisin, perfect to dip into tea and coffee - © Regione Sardegna