Sardinian recipes - Malloreddus with sausage sauce
By Gaveena & Mirtilla | 15 Oct 2016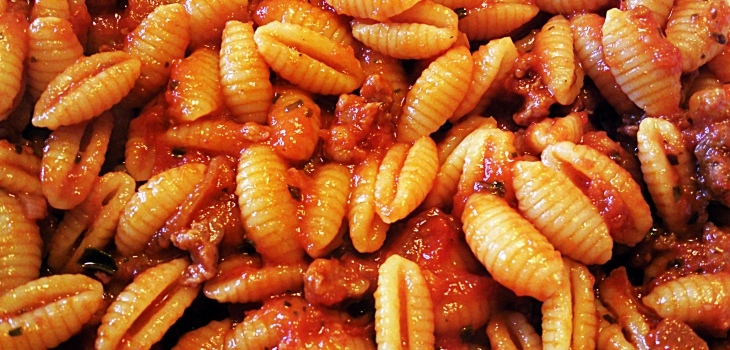 Malloreddus – also called gnocchetti sardi – is a typical pasta produced in our island.
Here's one of the easiest sardinian recipes anyone can follow to make a colourful and tasty main course.
Sardinian recipes
Malloreddus with Sausage Tomato Sauce
Ingredients for 4 people
500 gr of Malloreddus pasta
400 gr fresh or dry sardinian sausage
1 cup of white wine
2 tablespoons extra-virgin olive oil, plus one spoon more to be used just before serving the plate
2 cups of chopped onions
1 plump garlic clove, peeled and sliced
half a teaspoon of chili flakes
6 cups Italian plum tomatoes
10/12 basil leaves
1 cup freshly grated pecorino cheese
Peel the sausage and finely chop the meat.
Put the olive oil into a big pot and set it over medium heat. Put the onions and the garlic in the pot and cook for about 3/4 minutes until they begin to soften and get blondish, then add the chopped sardinian sausage into the pot and mix it.
After 3 minutes put in the pot the white wine, raise the heat a bit, and keep cooking for 3 more minutes.
Put the tomatoes in the pot, season with the salt and peperincino, and keep cooking for about 20 minutes.
When the sauce is ready, chop the basil with your hands and put it in the sauce. Mix it and cover the pot.
While the sauce is resting, it's time to cook the pasta.
Take a large pot, half fill it with water and place on fire; when it starts boiling add a fistful of salt in large grains and pour malloreddus. Stir every now and then so your gnocchetti will not stick to each other; after 12-13 minutes paste should be cooked, but we warmly suggest you to taste it since you may like it a bit harder (as we say in Italy
al dente
or softer.
When malloreddus are ready, remove the water with a pasta dryer and let them dive in the sauce. Finish with a spoon of olive oild and a storm of pecorino cheese.
Enjoy your Malloreddus with a good glass of Cannonau wine!
We believe you are getting hungry, so what about enjoying a tasty plate with malloreddus and sausage while wandering in Sardinia with Gaveena's local folks!
Here are some inspiring suggestions:

>> Cagliari Food Explorer

>> Fooding and crafting in Cagliari

>> Affodable Alghero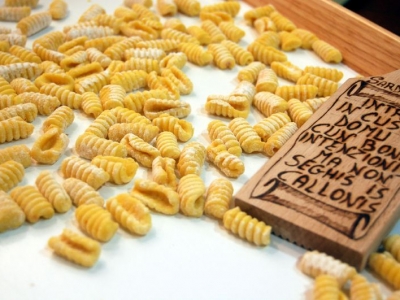 ---
MAIN PICTURE
That's how your malloreddus should look like after following Gaveena's recipe -
© Alessandro Calzolaro
BOTTOM LEFT PICTURE
Malloreddus pasta is often made by hand using a traditional wooden board… this is a special one with an original welcome message -
© Roberto Congiu
BOTTOM RIGHT PICTURE
This is how sardinian sausages are getting ready to be a tasteful ingredient of many typical recipes -
© Filippo N.