Sardinian dessert Seadas recipe
By Gaveena & Stefania Deiana | 01 Jul 2016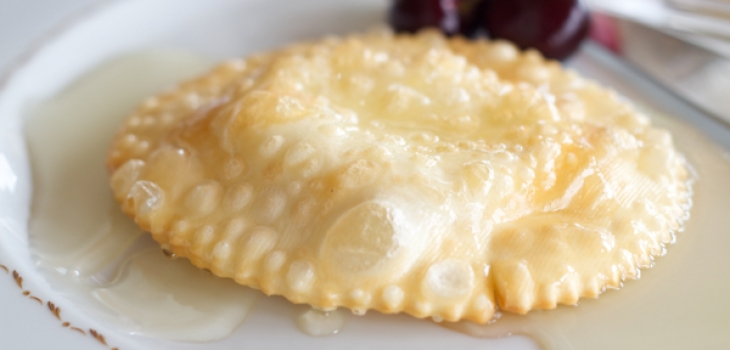 Give up your diet, it's seadas time!
What happens when you put some delicious cheese, a well-kneaded dough and honey together? You surely enjoy Seadas, the most delicious sardinian dessert!
This sweet is a real symbol of our island and it is quite popular outside Sardinia as well. Depending on the dialect spoken, it takes different names: Seadas or Sebadas. The result is the same: a yummy cheese-filled dough covered with honey or sugar.
Originally Sardinians used to prepare it during the Easter festivities only, but nowadays it got to be a delicacy eaten every day.
Even though Seadas is now known as a dessert, in the past it was often considered as a main course. For this reason there are many versions, some of which include non-sweet ingredients like parsley. The sweet version could be enriched with lemon or orange.
According to the traditional recipe, Seadas is stuffed with a very fresh and mild pecorino, but fresh cow-milk's cheese, such as
su casigiolu
, can be used as well. Cheese freshness is very important. We say that a good seada cheese should
filare
. It means that the cheese should melt during cooking, but not too much. The right consistency should allow to stretch upwards the cheese filaments with the fork.
The pastry is made with flour and water. To soften it, it is usually added a bit of lard. In Italian language, this dough is called
pasta violata
. This detail is very interesting, in fact, the name Seadas comes probably from the word
seu
(lard in sardinian language).
You can taste Seadas at the restaurant as well as at
agriturismo
. Some bars have included the seadas in their menu. You can also buy them at the supermarket or at
Pasta fresca
shop.
Preparing homemade seadas is still very common. Would you like to try it at home? Just follow Gaveena's Seadas recipe.
The mentioned ingredients amounts are meant for many seadas, but don't worry you can always freeze the spare ones! Here's what you need:
– A pasta roller machine
– 2 kg of grossly grated cheese, like fresh Pecorino or
casigiolu
or
peretta
, if you wish you can also mix them
– 1 Kg of flour or semola
– Lukewarm water
– Some spoons of fresh lard (it is possible to buy it at the supermarket)
– Grated orange or lemon peel
– Olive oil
– A pinch of salt
– Honey or sugar
Make a dough by combining the flour and salt with the lukewarm water. Knead it until you have an elastic consistency. Add the lard and continue kneading. Cover the dough and let it rest for about 30 minutes.
Then, roll out the dough and cut some circles. Add the orange or lemon peel to the grated cheese, and place the mixture in the middle of each circle. Top each dough circle with another one, pressing the edges well.
Fry your seadas, pouring often the top with the hot oil and turning them over to cook perfectly both sides. Once ready, lay them on some absorbent paper towels for a few seconds. Cover your Seadas with honey or sugar and… enjoy them!
Are you too lazy to cook your sardinian sweet, or simply wish to wander during every single minute of your holiday?
Then you may choose to enjoy delicious Seadas together with Gaveena's local fellows during these amazing travel experiences:

>> Affodable Alghero

>> Towns food and nature of North Sardinia

>> Fooding and crafting in Cagliari
---
MAIN PICTURE
Seadas - or Sebadas - is probably the most popular sardinian sweet; it looks like a big raviolo (a fritter, larger than raviolo) filled with fresh cheese, mixed with lemon or orange zest and different herbs -
© Wei-Duan Woo