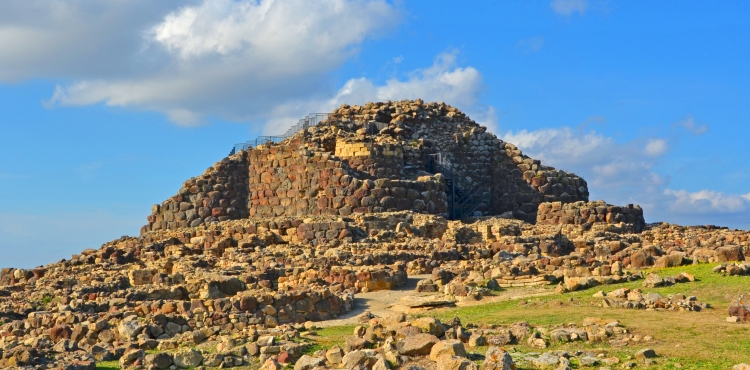 Cagliari is your home city during this exciting itinerary focused on archaeological treasures of south Sardinia. Friendly Gaveena's local fellows will jump with you back in the history and invite you to enjoy the atmosphere of our island between prehistorical nuragic age and Roman Empire centuries, covering around 2000 years of intense social and cultural development. And of course you'll be introduced to food & wine as well, since the amazing gastronomy we daily enjoy is the precious heritage generated by the interaction of all populations who visited our land during about 4 millennia.

So get ready to be impressed by Su Nuraxi at Barumini, the widest and most iconic example of nuragic settlement, founded between 17 to 13 centuries b.C. and inhabited for over 600 years; the site is listed in Unesco's World Heritage as a remarkable proof of an advanced prehistorical civilization in Mediterranean area.

Your path into sardinian history will then touch Nora, the most important town in Sardinia during Roman Empire built on a scenographic peninsula on west shores of Gulf of Cagliari. Here you will literally get into the structure of a wealthy roman town, walking along cobble streets between ruins of temples, thermal baths, palaces, houses and an amazing panoramic amphitheatre. The site features also well preserved mosaics as well as important findings related to the nuragic and phoenician ages.

Package highlights




>>

Explore the amazing history in precious archaeological sites


>>

Get deep into one of richest food and wine cultures in whole Mediterranean


>>

Meet friendly local fellows and enjoy and insider's experience in our Capital city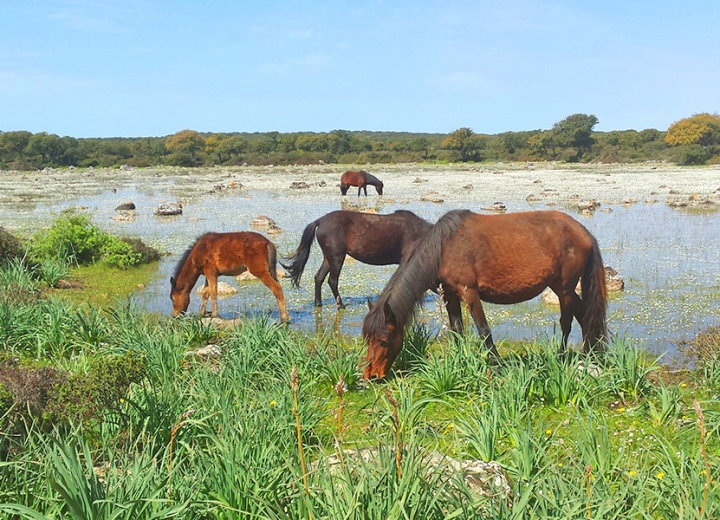 Day by day program outline
Arrival at your accommodation during the morning.
An afternoon walk around hilly Cagliari will introduce you to this surprising city, literally layered up by history on seven hills overlooking a wide plain dotted with salt pans in front of Mediterranean sea. You'll discover the inspiring atmosphere of the old town called 'The Castle' where antique architectures are carved by narrow streets ending in breathtaking panoramic spots.
But this walk has two more important targets: to make you dream about some tasty bites matched with inspiring wine and of course to let you enjoy them! So just choose which sardinian wines will please your nose and taste, they are all made with passion using indigenous grapes such as white Vernaccia, Vermentino and Torbato and red Cannonau, Monica and Carignano. Bacchus favourite nectar will team up with some specialties carefully selected by Slow Food like Fiore Sardo and Casizolu cheese, Bottarga mullet fish roes, hams and sausages laid on crispy carasau bread (total duration 3 hours). Overnight.
---
Today you will wander between the cradle of Mediterranean civilization and wide wilderness areas about 60 km north of Cagliari.
'Su Nuraxi' at Barumini is one of the biggest and best preserved megalithic monument in Europe, built 13 centuries b.C. and brought back to light during the 50's by the Sardinian archaeologist Giovanni Lilliu. This magical place is surrounded by a charming combination of history, mystery and mythology, embracing all 'nuraghe' towers spread all over the island and passionately studied by the most famous archaeologists.
Then we will reach Casa Zapata, the charming ancient residence of the Sardinian-Aragonese barons, built over a prehistorical settlement and now housing a small Archaeological museum.
A healthy lunch in a local trattoria will calm down your hunger before getting into a surprising natural beauty: Giara of Gesturi, a 45 km2 basaltic plateau where sardinian wild horses frolic between mediterranean maquis and wind-forged cork oaks (duration 6 hours). Evening at leisure and overnight.
---
The coast south-west of Cagliari can effectively please the fanatics of Mediterranean history and the most inspiring archaeological site in the area is surely Nora. This settlement was founded by Phoenicians in the 7th century b.C. on a scenographic peninsula and experienced its heyday during Roman Empire, when it was one of most important cities in Sardinia. A stroll around its cobble streets is a unique dive into history, between the ruins of luxurious villas, thermal baths and temples decorated with fine mosaics, together with a majestic amphitheater facing the sea.
In the neighborhood of Nora, we'll pay a visit to the church dedicated to Sant'Efisio, surely the most popular religious icon in Sardinia widely celebrated every year on 1st of may during a famous festival.
You will then enjoy a good lunch in Pula, a charming small town where to chase fancy handicrafts (total duration 5 hours). Evening at leisure and overnight.
---
Breakfast.
---
This program can be combined with all other
packages
offered by Gaveena, check them out and create your unique travelling experience.
---
Selected accommodation in Cagliari
Antica Residenza Marina di Castello b&b
Biddanoa b&b
Boutique hotel Miramare
Il Cagliarese b&b
Residenza Kastrum b&b
Rosso e Nero b&b
Villa Cao b&b
La Villa del Mare b&b
---
MAIN PICTURE
Su Nuraxi at Barumini is the biggest and best preserved megalithic complex in Europe -
© ezioman
BOTTOM LEFT PICTURE
Precious and amazingly well preserved mosaics at Nora archaeological site - © Nicola Castangia - Sardinia M.E.
BOTTOM RIGHT PICTURE
Wild horses can easily be spotted in Giara di Gesturi basaltic plateau- © Nicola Castangia - Sardinia M.E.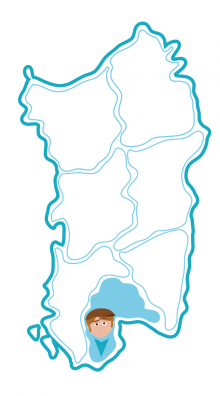 Period
All year
Type
Individual and group
Duration
4 days – 3 nights
Price
p/p in double starting from
Oct - May € 595
Jun - Sep € 635
Price includes
3 nights accommodation at b&b or hotel, including breakfast – excursions and meals as described in the program with english speaking guiding or assistance – travel insurance
Car hire
For individual travellers, the most of activities proposed in our packages offer the possibility to have a pick-up at accommodation; in some cases the transfer service is included in the rate while for others a supplement is to be applied. In any case, if you wish to freely enjoy Sardinia at its best, we warmly suggest you to rent a car. We know there's a bunch of good car rental suppliers on the web, so feel free to find the best deals online. If you wish you may have a look at the offers proposed by our partner
Rentalcars.com