Mysterious carnival masks in the heart of Sardinia
By Gaveena & Giusi Carai | 01 Nov 2017
While searching for images of Sardinia, probably some of you has been impressed by local people wearing weird costumes and mysterious masks. Don't worry, this is not our everyday outfit! It's part of antique rituals and bizarre celebrations taking place during carnival, surely the most buzzing period of the year in our island.
In
Barbagia
, the mountain region in the heart of Sardinia, carnival starts usually on 16th and 17th of january, when masks make their first outing to propitiate a good year.  
Here's Gaveena's selection of the most mysterious carnival masks in Sardinia.
Mamuthones and Issohadores – the stars
The most popular actors of this special carnival come from
Mamoiada
, a village in the outskirts of Nuoro. Mamoiada is also home to the
Museum of Mediterranean masks
. These men dressed with sheepskin, carrying extremely heavy cowbells on their back and a black wooden mask covering their face, jump to the rhythm given by the
Issohadores
, dressed with typical male costume and a rope used to guide people and masks during the dances.
The good news is that, you can dance with them without cowbells in the back!
Sardinians are welcoming people, aren't they?
Su Battileddu – a dark parade
Where Barbagia gets closer to the
Tyrrenian sea
there is a small village: Lula, famous for its beautiful white mountain and the old mines. During the carnival the streets are animated by
Battileddu
, a black-faced man painted with soot and blood, back covered with sheep hides, 2 horns and an oxen stomach filled with blood arranged on his belly to fertilize the land.
Thinking it is too much? Guess what is resuscitating this victim of the carnival? Well,
a good glass of wine of course!
Boes and Merdules – man and wild nature
Covered with white hides,
Boes
are ox – as their black wooden mask suggest – while
Merdules
are men. Once again, the ancestral ritual of carnival represents the relationship between men and animals; this one takes place in Ottana a mountain village in Barbagia, the cradle of sardinian culture. Together with them
Sa Filonzana
an old woman holding a thread and scissors wanders in the streets; if people do not invite her for a glass of wine, she might punish them cutting the thread of life. Better not to risk!  
In central Sardinia carnival is unique! Despite the masks tragic look and their low sex-appeal, we bet that local hospitality, wine and bizarre delicious food will turn your carnival into an unforgettable experience.  
Wish to discover the heart of Sardinia with friendly local fellows? Check out Gaveena's groovy travel picks:

>> Mountain Wandering in the Heart of Sardinia

>> Sardify yourself in Barbagia

>> Fooding Wining and Crafting in Barbagia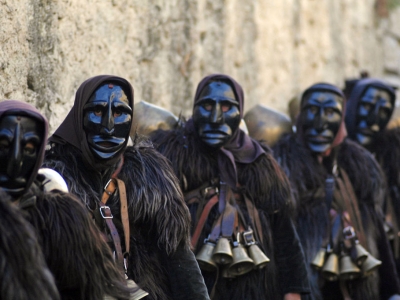 ---
MAIN PICTURE
Boes (the oxen) at mid january bonfire; they are traditional and bizarre carnival mask of Ottana, a mountain village in central Sardinia -
© Antonio Crisponi
BOTTOM LEFT PICTURE
Mamuthones are the most popular actors of sardinian carnival, they come from, a village in the wide mountain area surrounding Nuoro -
© Filippo Sarti
BOTTOM RIGHT PICTURE
During carnival at Lula, in Sardinia mountain area, the streets are animated by Battileddu, a black-faced man with two big horns and the back covered with sheep hides -
© Sandra Poddighe