Mussel and clam soup - Sardinian recipe
By Gaveena & Mirtilla | 20 Aug 2016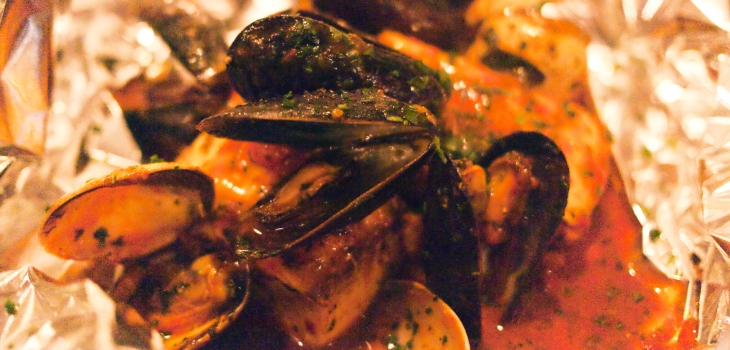 Here's a classic of Mediterranean cooking tradition: mussel and clam soup made with fresh ingredients from sardinian coasts, mixed with delicious products of our farms such as tomatoes, olive oil and garlic. Simple and simply delicious, this is the soul of our food.
Mussel and clam soup
Ingredients for 2/3 people:
500 gr of fresh mussels and 500 gr of fresh clams (from Olbia or Arborea)
1/4 cup of olive oil
4 garlic cloves, finely chopped
1 pinch of red pepper flakes
5 big tomatoes
2 tablespoons of chopped fresh flat-leaf parsley
8 slices of cifraxiu bread (typical sardinian bread)
Clean the clams leaving them to soak 30 minutes in warm salt water; in this way sand will get out from the shells.
Clean mussels removing the'beard' with the knife and removing impurities from the shell.
Peel tomatoes, remove all seeds and cut them into pieces.
Finely chop the garlic and parsley leaves.
Heat the olive oil in a very large pot and when it gets hot add chopped garlic and parsley. After a minute, add the chopped tomatoes and cook for 5 minutes over low heat.
Add mussels and clams previously and let them flavor with the sauce of tomato, garlic and parsley.
Add a pinch of red pepper flakes, cover the pot and cook over medium heat until all the mussels and clams are open (about 10 minutes).
Serve in bowls with 2 slices of cifraxiu bread and finish with olive oil and chopped fresh parsley.
Enjoy the taste of Mediterranean!
Most likely you got drooling, so we suggest you to enjoy a tasty mussel and clam soup while visiting Sardinia with Gaveena's local folks! Here are some inspiring suggestions:

>> Fooding and crafting in Cagliari

>> Cagliari Food Explorer

>> Affodable Alghero
---
MAIN PICTURE
Here's how a good mussel and clam soup will look like after following Gaveena's recipe - © Edsel Little