Main events in Sardinia January - May
By Gaveena & Manuel | 10 Nov 2016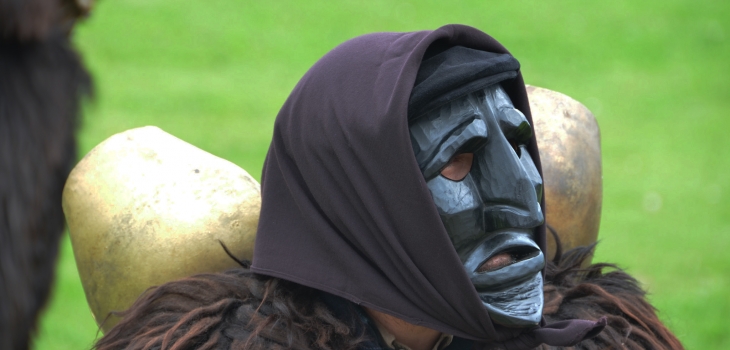 This is our selection of events buzzing Sardinia every year between January and May.
You'll have the chance to get deep into the soul of our island and you will meet friendly people, taste delicious food, admire cool handicraft and be amazed by ancient folk traditions.
Festa di Sant'Antonio Abate
All around the island – January 16th and 17th
The mid-winter feast is widely celebrated in many towns and villages where carousing locals gather around bonfires.
It also represents beginning of carnival celebrations, in particular in the mountain area of Barbagia: here the traditional masks make their first parade of the year.
The most captivating parades take place in Mamoiada and Ottana, featuring the masks Mamuthones, Boes and Merdules.
Carnival
All around the island – Long weekend from friday to "shrove tuesday" ending 42 days before easter
This is surely the largest and most popular event of the year, with a range of catchy happenings throughout the island.
People of Barbagia wander around mountain villages wearing shaggy sheep-fur jerkins and bizarre masks like Mamuthones, Boes and Merdules which turned to be a symbol of Sardinia.
Celebrations in Oristano, on west coast, take place with a theatrical medieval joust in the Sartiglia festival; in the same area, the town of Santu Lussurgiu hosts Sa Carrela 'e nanti, a thrilling run in the narrow cobbled streets performed by expert horse-riders.
Tempio carnival, in north-west, is known for its satiric and funny character with impressive decorated floats and hundreds of people wearing multicoloured costumes.
In the most of sardinian towns and villages, during this period you'll be invited by locals to enjoy good food, traditional costumes and, above all, lots of partying.
Don't miss Sardinian Carnival, you'll be surprised!
Easter
All around the island – March or April
Another important event deeply involving the religious soul of local people who perform choreographic processions, participate in ancient rituals and share their devotion to icons of christianity. The most picturesque events take place in Castelsardo on the north coast, Alghero, in north-west, Iglesias in the south-west and in the mountain village of Oliena, near Nuoro.
A special event during Easter weekend takes place in Tonara, in the heart of the island, where Torrone is produced, a simple but extremely tasty sweet made only with egg albumen, local honey and dried fruit.
During Easter week each town has its own traditional celebration linked to the deep the spirituality of local people.
Festa di Sant'Efisio
Cagliari – May 1st and surrounding days
Cavalcata Sarda
Sassari – mid May
These events represent the folk pride of sardinians and are held in the two main cities. They gather people from all over the island who are keen to present their traditional costumes and craft products during striking and multi-coloured parades.
The parade in Cagliari is incredibly long – about 40 km up to the town of Nora – and around 5000 people participate, making it one of biggest and surely the most colourful religious procession in the world.
Sassari, together with the parade, features a spectacular acrobatic horse riding performance.
Please visit
http://www.cagliariturismo.it/en
 and
http://www.lacavalcatasarda.com
for information and nice images of these unmissable events.
Girotonno
Carloforte, San Pietro Island – end of May/beginning of June
People living at San Pietro, the island offshore Sardinia's southwest coast, have a special link with Genoa where their ancestors where born.
Here one of the oldest tuna processing plants in Mediterranean is still in operation, working with traditional fishing techniques. In this fancy and unique microcosmos the red-meated fish is a real icon, widely celebrated during Girotonno festival: four days devoted to tasty food and wine, busking, dancing and enjoying the Mediterranean atmosphere at its best.
Here's a tasty link for you
www.girotonno.it
Of course there's much more than these, so whenever you will decide to wander around the island be sure that you'll have opportunities to take part in exciting and bizarre events!
If you are planning to travel in the other half of the year, you may check out this post
Main events in Sardinia June – December.
Wish to enjoy these cool events with friendly local fellows? Check out these awesome suggestions by Gaveena:

>> Fooding and Crafting in Cagliari

>> Wild Wild West Sardinia

>> Sardify Yourself in Barbagia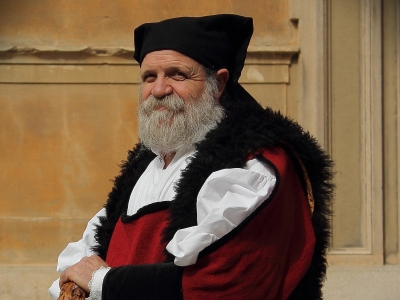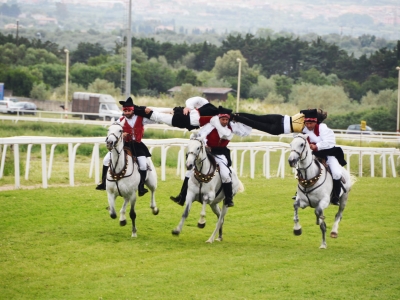 ---
MAIN PICTURE
Mamuthone, from Mamoiada in the heart of Sardinia, is surely the most iconic mask of our island -
© ezioman
BOTTOM LEFT PICTURE
A traditional costume during Sant'Efisio parade in Cagliari -
© Francesco Medda
BOTTOM RIGHT PICTURE
Fast and spectacular horse riding performances are held during Cavalcata Sarda in Sassari, north west Sardinia -
© ezioman