Fregola with clams - Sardinian recipe
By Gaveena & Mirtilla | 25 Jul 2016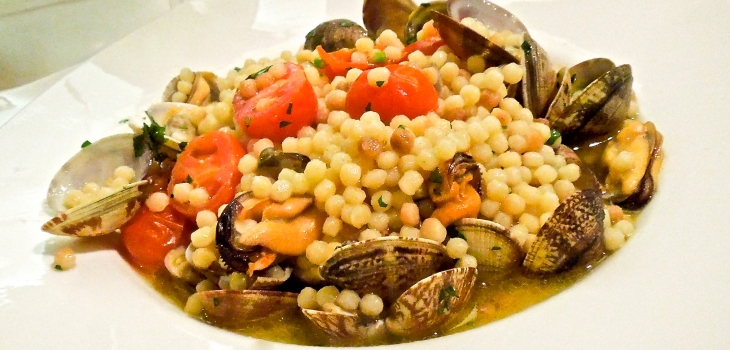 This delicious Sardinian recipe is known throughout the world; the version of fregola with clams from the southern part of our island is a sort of soup to be eaten with a spoon, while in other areas is more similar to a fork-friendly risotto.
The Sardinian fregola is a type of pasta made with semolina and water just like cous cous, although its grains are significantly larger.
Fregola with clams – Ingredients
1 ½ cups of fregola
¼ cup of extra virgin olive oil
3 cups of hot water
2 garlic cloves, finely chopped
1 pinch of red pepper flakes
30 clams
4 big tomatoes
2 tablespoons of fresh flat-leaf parsley, finely chopped
Clean the clams by placing them in a bowl with warm salted water for about 30 minutes; in this way the shells will release any sand they might have inside them.
Peel the tomatoes and cut them in small pieces.
Finely chop the garlic and parsley leaves.
Heat the olive oil in a very high pot, then add the chopped garlic and parsley. After a minute, add the chopped tomatoes and cook for 5 minutes over low fire.
Add the clams and let them introduce themselves to tomato sauce while spicing up with pinch of red pepper flakes. Add 3 cups of water and cook at low heat for about 20 minutes creating a super tasty broth where fregola will happily dive.
After 15/20 minutes your fregola will be cooked; while waiting, keep the heat not too high, stir every now and then in order not to make it stick to the bottom.
The suggested cooking time is mentioned on the fregola box, anyway we warmly suggest to taste it while cooking in order to take it our from the fire when it gets to the consistency you like.
Serve in bowls and finish with a few drops of extra virgin olive oil and a bit of chopped fresh parsley.
Got mouth watering? Maybe you wish to taste fregola with clams during a cool experience in Sardinia with Gaveena's local folks! Check them out:

>> Cagliari Food Explorer

>> Fooding and crafting in Cagliari

>> Affodable Alghero
---
MAIN PICTURE
Fregola with clams is surely one of the icons of Mediterranean cuisine -
© Patrick