Ability and allure at Sa Sartiglia: carnival in Oristano
By Gaveena & Giusi Carai | 02 Nov 2016
What are this crazy folks up to, with a mask on their face doing such dangerous stunts on horseback? Before you think we are totally insane keep calm: it's Carnival! Moreover, you get to know that for the city of Oristano, it means Sa Sartiglia: a joust with Don Quixote's insanity and Sardinian allure.
The celebration is held every year on sunday and tuesday 40 days before Easter.
The streets of the citizen stroll will be closed to traffic, whilst a constant drumbeat will accompany the participants dressed in colourful traditional Sardinian and Spanish costumes for the joy of locals and curious travellers!

The star race at Sa Sartiglia in Sardinia
The joust to the star is the final act of the feast, though the most important.
The chosen leader of trial Su Componidori is entitled to bring luck to the corporations in charge of the organization: the peasants and the carpenters. With his awesome fellow horsemen, he will gallop with his sword trying to pierce the iron star hanged in the middle of the track. The more stars will be pierced, the luckier the year ahead will be! This is a crucial moment of Sa Sartiglia and the pathos around it might make you asking for a drink. In case it happens, do not forget to try the awesome Vernaccia, a local liqueur wine much well appreciated among wine lovers!
The king of fools: Su Componidori
The leader of the day is an ordinary man – better if a good rider – and an arbiter who becomes the king of the town for one day.
The dressing ceremony is the opening, longest and most exclusive part of the feast. The master wears an expressionless mask, a white veil and a black top hat, silk ribbons, a white shirt, and a leather jacket. The ribbons and the colour of the mask varies for each corporation: red laces for peasants, green and pink for carpenters plus an earth color mask for the first and a pale mask for the carpenter's master.
This "king of fools" with its androgynous mask becomes a demigod from the very first moment he gets on his horse. He won't be able to touch the ground until the end of the day.
Pariglie: a crazy riders parade at Sa Sartiglia
After seeing this, you will be pretty convinced that we are full on crazy–pants! Pariglie are run by young riders who perform as stunning acrobats riding their horses at full gallop and leaving the crowd simply astonished. Something so insane might appear naive, though riders and horses train for months before delighting the public with their display of equestrian acrobatics, in the excited afternoon.

What a wonderful gran finale!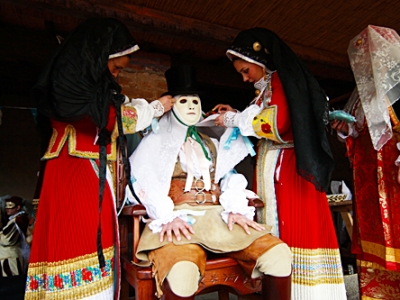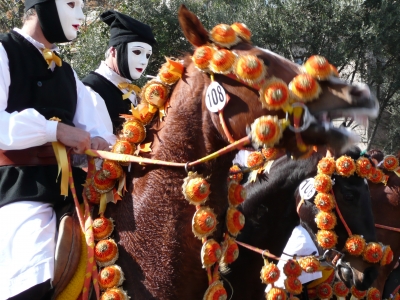 ---
MAIN PICTURE
The thrilling joust to the star is the final act of
Sa Sartiglia
, the more stars will be pierced, the luckier the year ahead will be! -
© Federico Caboni
BOTTOM LEFT PICTURE
The dressing ceremony of master of the joust
Su Componidori
is the opening and most exclusive part of
Sa Sartiglia
carnival -
© Vincenzo Fileccia
BOTTOM RIGHT PICTURE
During
Sa Sartiglia
horses are decorated with precious and colourful handmade ornaments - © ezioman